Verified by Pyckio
If you have a blog/website and you submit your picks at Pyckio.com, we offer you the ability to show a Pyckio badge in your site that confirms your betting statistics are verified by us.  Within the badge it can be read "Visit my Tipster page in Pyckio.com". You just have to link it to the url of your Pyckio tipster account, such us https://pyckio.com/i/#!account/axeltorres. You can also link to your statistics page in one specific sport, for example https://pyckio.com/i/#!account/axeltorres/soccer or to any determined sport-country: https://pyckio.com/i/#!account/axeltorres/soccer-england
In this way, the users who visit your site can trust that your statistics are real and verified by Pyckio (at Pinnacle Sports odds). Moreover, they will be able to access your tipster page in Pyckio in only one click.
We also verify picks from external Tipsters outside of Pyckio, who have their own website or blog. This verification has an ad-hoc cost, that will depend on the work that the verification will take us. If you are interested, send us an email to support@pyckio.com.
We have made badges of different sizes. To upload them just put your mouse over the image, click on the mouse right button and "Save image as…" . Add the link to your Pyckio account and that's all.
1. 125 x 125

2. 200 x 200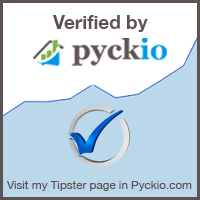 3. 250 x 250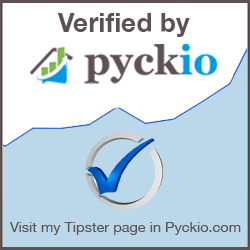 4. 300×250
5. 728 x 90

6. 160 x 600

7. 120 x 600

If you have any doubt or you want any specific size please contact us and we'll study it.